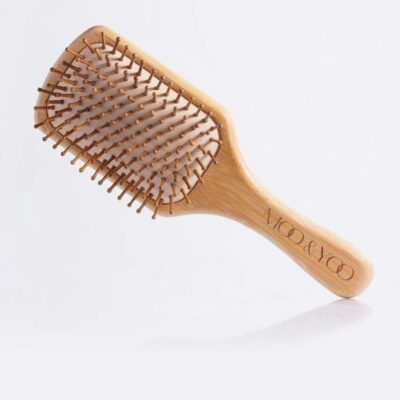 Description
How to use
Ingredients
Our bamboo paddle brush is 100% plastic free and natural, made with sustainable bamboo and natural rubber. The pins are 100% bamboo, designed to be gentle on the hair and scalp. The bamboo pins have rounded ends and are cushioned in natural rubber helping to gently detangle the hair without causing damage. The bamboo bristles combined with the cushion of the natural rubber helps stimulate and massage the scalp to promote blood flow promoting a healthier scalp and hair.
Bamboo is a sustainable resource and all of the bamboo used in these brushes is harvested sustainably. As it is the fastest growing plant in the world, it allows for fast and frequent harvesting without affecting natural bamboo forests negatively. Bamboo is hypoallergenic and also possesses a unique antibacterial quality making our hair brush more hygienic and odour resistant.
For Best Results: Use on dry hair to reduce damage, wet hair is more fragile. For coarse hair types the opposite is true and you should brush your hair wet.
Part the hair into sections and start at the end sections of the hair, brushing downwards to de-tangle before working your way up to the mid-section then scalp only when all the hair is de-tangled.
100% natural rubber and bamboo, 100% biodegradable, 100% plastic free. This brush comes with zero packaging.
Moo Recommends: